Design Trends and Inspiration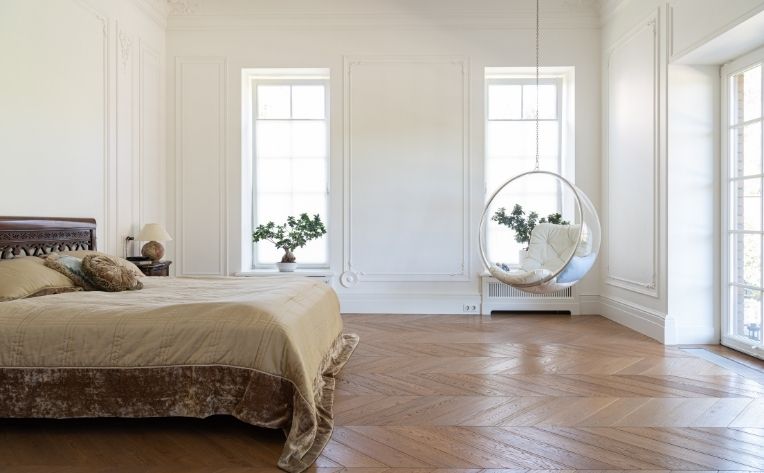 Jun 10, 2021
Spotting the Difference between Herringbone and Chevron Flooring
Herringbone and chevron-patterned flooring: Are they the same? Despite having some similarities and both falling under the parquet-flooring category, they are quite different. One thing they do have in common –they're making a popular comeback as contemporary flooring patterns.
Pinning Down Parquet Flooring
Parquet flooring is when wood planks are cut into small pieces and installed in a repeating pattern. This style was popular in the 1960s when geometric patterns were in. Parquet flooring is back, especially herringbone and chevron, but these patterns did not make their first debut in history during the '60s.
The History of Herringbone and Chevron
The name herringbone (surprise, surprise) was inspired by the bone structure of the herring fish, and the pattern was first seen in the Roman Empire. The Romans used this pattern to create sturdy paved roads by arranging rectangular blocks. The herringbone pattern appeared again in the 16th century as a popular style for wood flooring, much like we see today.
Chevron, despite being considered the more modern of the two patterns, also has a rich history. The V-shaped pattern was first seen in the Bronze Age depicted on pieces of pottery. Like herringbone, chevron also showed up in 16th century Europe as a popular type of wood flooring.

Comparing Herringbone and Chevron
Herringbone and chevron look similar and can be easily confused. The key difference is the angle at which each wood plank is cut. In the herringbone pattern, each end of the wood planks is cut at a 90-degree angle, which creates a broken zigzag pattern. Chevron, on the other hand, uses wood planks that are cut at a 45-degree angle, creating a continual zigzag pattern. The angled wood planks in chevron meet, creating an exact point that has an arrow-like effect.

Stunning Styles for Herringbone and Chevron Floors
Whether you choose herringbone or chevron wood floors, both of these styles bring added detail, texture, and character into your space. Each pattern can change dramatically based on the type and colour of wood you choose. Woods with deep variation in colour and grain can allow for more striking and bold patterns, whereas lighter woods with less variation will mimic the more traditional flooring seen in 16th century Europe.
The size of the wood plank is also something to consider when thinking about herringbone or chevron floors. Thinner planks will create a tighter, more detailed-looking pattern, whereas long and wide planks will create a bolder design. The colour and size of the planks you choose can give your room a whole different look and feel.

Floor Finishes and Care
Like any kind of hardwood floor, there are a variety of ways you can stain and finish your herringbone or chevron floors. Knowing what type of colour palette you want in your space, comparing stains, and looking at different finishes can help you discover what is best for you. In addition, regular mopping, sweeping, and hardwood floor care will be necessary to keep your floors looking beautiful.

Let These Patterns Pop without Breaking the Bank
If you are looking for a lower maintenance and less expensive option, laminate and luxury vinyl have the same pattern options available with a lower price tag and better water resistance. Plus, both of these alternative materials come in a variety of wood looks and colours, just like regular hardwood floors, giving you plenty of stylish options to choose from.
Call In the Experts
If you need help figuring out if herringbone or chevron floors are right for you, the Flooring Canada experts are here to help. Give them a call, or stop by your local Flooring Canada store today.
Continue Reading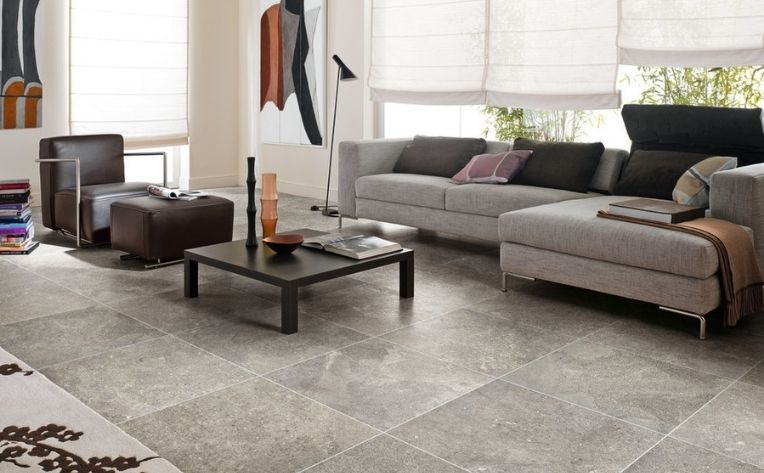 May 26, 2021
Tile Takes on Colour
When it comes to tile, there are a lot of colours, textures, and sizes to choose from. Before we dive into the best tile colour and style options for your space, let's dive into the benefits of tile.
Go Green—Not Literally
Tile is an environmentally-friendly flooring choice as ceramic and porcelain tiles are long-lasting options. As such, they have to be replaced less frequently and if they are installed correctly and you choose a timeless style, tile can last for many years. On top of that, many tile factories are "closed-loop," meaning they reuse water and materials, making them gentler on the environment.

Benefits on Benefits
Aside from the benefits of being sustainable, tile is also hypoallergenic. Dust mites, mold, germs, and bacteria that are often at home in other materials find tile to be uninhabitable. This makes tile a great option for individuals with allergies or asthma.
Tile, especially ceramic tile, is also a low-maintenance flooring solution. There is no need for fancy cleaning products—a little warm water and soap will do the trick.

Tiles and Rooms Come in All Shapes and Sizes
When choosing tile colour, the size of your room and the size of your tile can make a big difference. The size of the tile you choose should be relative to the size of your room. If you are working with a large space, like an open kitchen or a living room, larger tiles would work well. If you are working with a small bathroom or entryway, smaller mosaic tiles might be a better option.

It's Time to Take Out Your colour Wheel
When considering colour, the type of room you are tiling will be a factor. High-traffic areas like hallways or kitchens might call for a tile that is darker in colour, has texture, and doesn't show dirt too easily as people will be passing through often. Bathrooms or sunrooms might give you the opportunity to make a statement with your tile choice, like bold colours or patterns. In a living room, on the other hand, you might opt for light to medium-coloured tiles to create a neutral palette that you can build your design off of.
Of course, when choosing any floor type, it is always important to consider wall colours, the specific style you are looking to achieve, and colours you want to incorporate in your space. Creating mood boards and a colour palette can help narrow down your choices and find the best tile selection for your space.

Need Help Choosing Your Tile?
Visit or call your local Flooring Canada store today. Our flooring experts are always happy to help you find the perfect tile style and colour for your space.
Continue Reading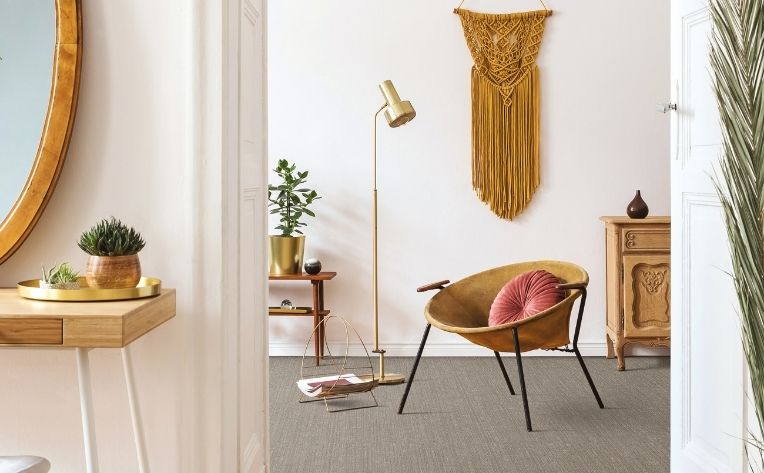 May 24, 2021
Make Your Home Flow with Boho Style
Bohemian style, also known as boho style, uniquely blends colours, textures, and patterns to create a laid-back look. This style comes to life in the details through patterned pillows, textured throw blankets, and colourful area rugs. With busy patterns being showcased in various décor elements, the key to this style is having all the pieces work within the same colour palette to create consistency and flow.

Hardwood and Luxury Vinyl Let Your Colour Details Shine
Because pops of colour indeed will be popping up all over your boho space, the best type of flooring options are bright and simple. Light to medium-coloured hardwood or luxury vinyl planks are great options. They will create warmth while not taking away from your fun design elements.

Let's Talk Texture
Herringbone wood floors or distressed-styled vinyl can also be a creative way to continue to add texture and depth while still playing in the neutral land of colour.
If you are looking for carpet options, we recommend natural fibers and colours. Natural carpeting that has an indoor-outdoor feel help to create additional texture and will also make your space feel cozy.

Boho Design Is in the Details
To top off your boho space, flowing curtains, floor pillows, plants, and cultural wall art are great additions. This style will also allow you to put all your cute eclectic items on display and personalizes your space to make it warm and inviting for anyone who enters the room.

Talk to a Flooring Expert
Your local Flooring Canada store is here to help make all your boho décor dreams come true. Although the throw pillows and fun collectibles make this style come to life, creating a beautiful foundation with your floor choice is key. Come into your local Flooring Canada today, and let the experts help you create the feeling of home as soon as you step in the door.
Continue Reading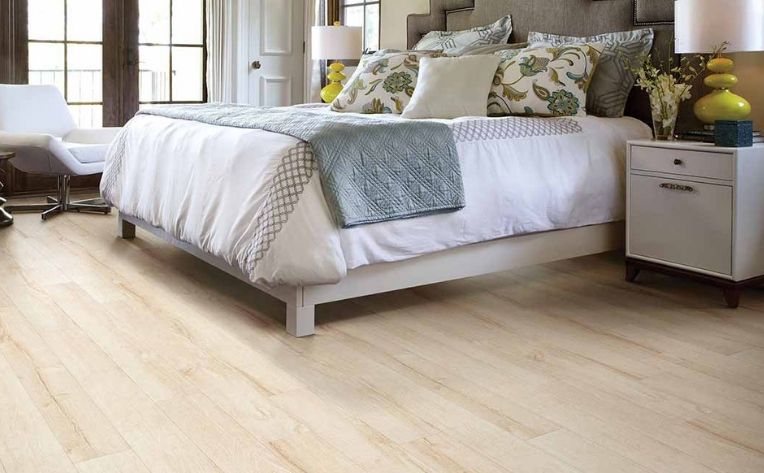 May 19, 2021
Bring Laminate and Colour into Your Space
Here's the thing about laminate—the colour options seem endless. Compared to hardwood, laminate provides a very similar look at a lower price point with plenty of colour options and finishes to choose from. Plus, it's more scratch-resistant, durable, and resilient when it comes to moisture, and it's easier to install. With so many options, choosing the right colour can be overwhelming.
The best laminate option for your space is dependent on your vision. Flooring is harder to change and update compared to walls, artwork, and furniture. So, lots of consideration should go into choosing your flooring colour, and it should be chosen before other details.
When you begin looking at vast sample booklets, it might be challenging to know where to start. Before you head over to your local Flooring Canada store, we recommend creating a mood board and collecting inspiration. Pinterest boards, magazine cutouts, or colour palettes can help narrow down your options.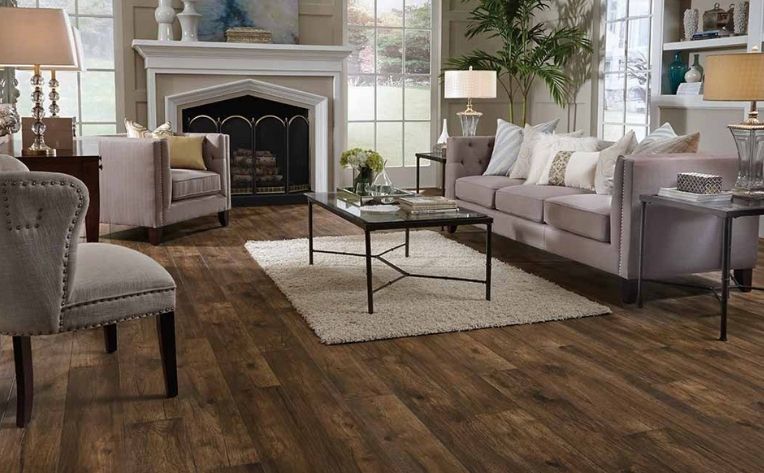 In addition, as you begin doing research, you might find décor styles that fit your vision like shabby chic, minimalist, farmhouse, traditional, beachy—the list goes on. This is important because if you have a theme, it will rule out a lot of colour options and make it easier to choose the right one. For example, traditional décor calls for a rich cherry colour, where a beachy design naturally leans toward whitewashed or light tones. By creating a clear vision, the right colour choice will be easier to make, leaving you with a floor you love.

Need Help Picking a Colour?
If you are overwhelmed by the colour options of laminate flooring, your local Flooring Canada store is here to help. Our experts can narrow down your options and help you choose the laminate floor that fits your vision best. Give them a call or stop by your local Flooring Canada store today.
Continue Reading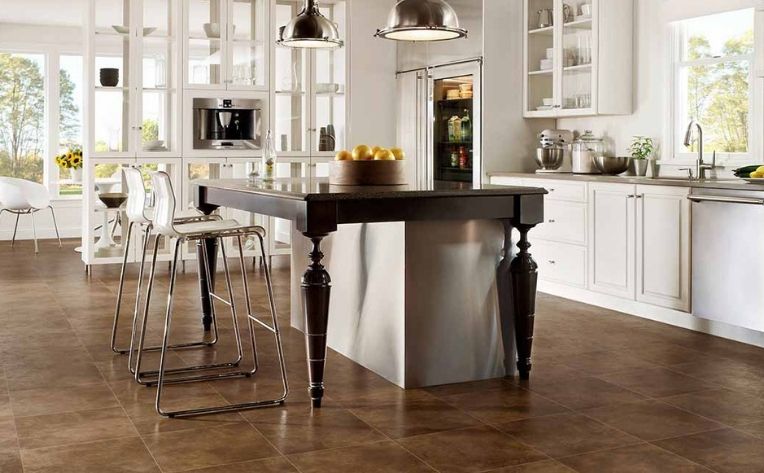 May 10, 2021
Vinyl Is Back
The popular vinyl flooring of the 1970s was durable, versatile, and came in any pattern imaginable, but perhaps it would be considered undesirable by today's design standards. We have good news, though: Vinyl flooring is still as durable and versatile as ever but now comes in limitless options that bring beauty and style into your home. This affordable flooring, now known as luxury vinyl plank (LVP) or luxury vinyl tile (LVT), mimics more expensive materials without the steep price tag, and we promise you won't feel like you are living in a '70s sitcom.
The Look of Hardwood
Hardwood floors give your space a timeless feel, but installing hardwood is expensive. Plus, since it's composed of natural wood, hardwood requires upkeep and can be damaged easily. Luxury vinyl plank can look like hardwood but comes with the benefit of being waterproof, standing up to spills and messes. With luxury vinyl planks, you can get the look of maple, oak, or pine without the high cost.

Tile Style
When it comes to luxury vinyl tile, popular choices include limestone, marble, or slate. Traditional tiles in these styles not only can be very expensive but also can be challenging to maintain. With luxury vinyl tile, there are so many colour options within different tile styles you already love. Plus, with the amazing technology behind luxury vinyl, you will still have floors with natural texture and dimension at a lower price point.

Colour Outside the Lines or In
Once you have selected your desired texture, it's time to decide on a colour. Vinyl in the past had a lot of yellow undertones. Even hardwood can yellow over time, which with current trends will make your floors look outdated. With modern luxury vinyl, you won't have to worry about floors yellowing, and there are endless colours to choose from. Light colours will open up your space, and dark colours will add formal elegance and contrast.

Other Options
Concrete floors have also been a popular style, but the problem is that these floors develop cracks over time. Not to worry, luxury vinyl can mimic concrete flooring and leave you with a smooth crack-free surface.
If you are looking for a pop of colour or making a statement, luxury vinyl comes in a variety of modern colours and patterns. These options will leave you with a bold design of multi-coloured floors that feel updated and fresh.

Vinyl Experts Are Here to Help
The endless options of luxury vinyl can feel overwhelming unless you have the assistance of a flooring expert. Turn to your local Flooring Canada experts, as they are always eager to help you with your next flooring project. We can help you find the right style and colours for every budget, leaving you with floors that you will love. Stop by your local Flooring Canada today.
Continue Reading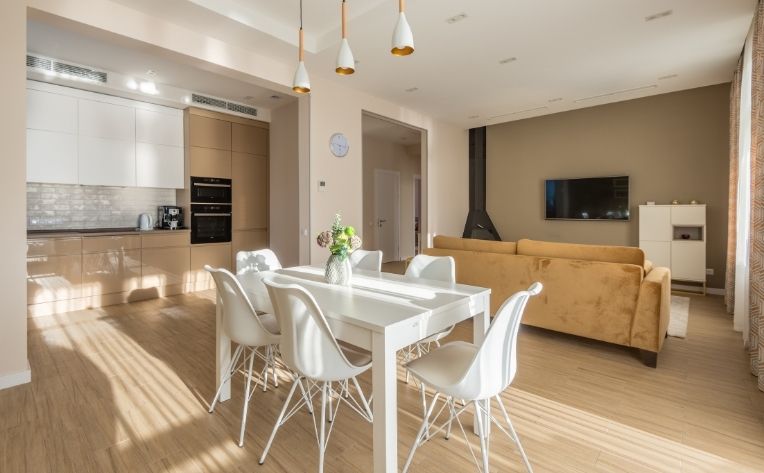 May 05, 2021
Defining Minimalism
The word minimalism gets tossed around a lot and seems like a fancy buzzword for being organized. Minimalist design is much more than having a tidy home and owning a label maker. In the simplest of terms, minimalism means living with less. This could mean living with less clothing, fewer beauty products, or less stuff inside your home.

A Deeper Meaning
If you are looking to transition into becoming a minimalist, you might find yourself constantly asking, "Do I need this?" If you are practicing the method correctly, the answer to this question will be "no" more often than "yes." Minimalism could be considered a practice of intention, as you must prioritize the necessary items in your home and remove anything that distracts from them.

Minimalist Design
In terms of design, minimalism is all about removing busy patterns, adding clean lines, and incorporating a natural color palette. A minimalist-designed space should feel open, giving you a light and airy feeling upon entering.

How Do Floors Fit In?
Of course, the style of furniture you have in your space, the textures you incorporate, and the color of your walls can all contribute to your minimalist design—including your floors. When looking for the perfect floors to lay the foundation of your minimalist space, we recommend shopping for floors within a neutral color palette that provide clean lines, so your space is always looking fresh.
If you are interested in hardwood floors, we suggest contemporary, wide-planked floors that have muted or whitewashed tones. Tile can provide a nice texture and an earthy stone-like look, which can play on the use of natural elements. Last, luxury vinyl planks and tiles can replicate wood, stone, or anything in-between, giving you more budget-friendly options.

Make the Shopping Process Minimal with One of Our Experts
If you need help figuring out what floors will work best with your minimalist design, your local Flooring Canada experts are here to help. These experts can assist you in deciding on the best flooring for your budget and your minimalist vision. Give them a call or stop by your local Flooring Canada store today.
Continue Reading