Laminate Flooring in Lethbridge, AB
Elevate the look of your Lethbridge home with durable and stylish laminate flooring options available at FloorRight Interiors. Our team is here to broaden your design horizons by helping you choose the perfect laminate flooring that aligns with your specific needs for performance and style. Our extensive selection of laminate options is consistently updated, ensuring you'll discover colours, patterns, and styles that cater to your personal preferences.
Whether you're seeking the cozy allure of wood-inspired laminate for your living room or the sophistication of laminate tiles for your bathroom, we'll work closely with you to find the ideal flooring solution that ticks all the boxes for appearance and function. At FloorRight Interiors, our approachable experts are ready to assist you every step of the way, from selecting the right materials to fine-tuning your design plans and executing a flawless installation of laminate flooring. Don't miss the opportunity to explore our showroom in Lethbridge, Alberta, and bring your dream floors to life!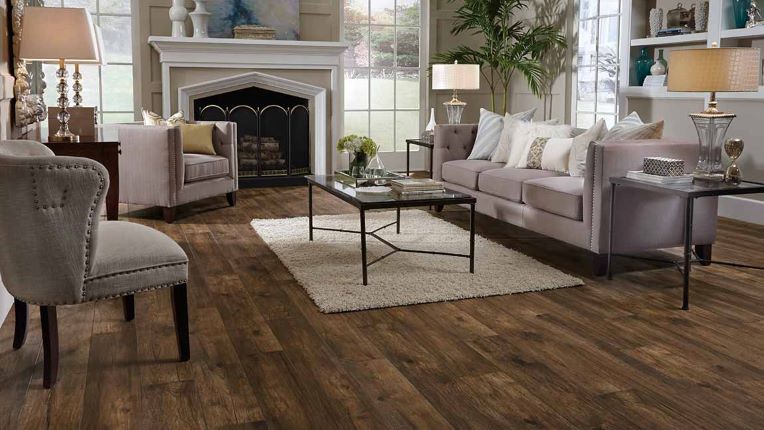 Find Stylish Laminate Flooring Selections
At FloorRight Interiors in Lethbridge, Alberta, we pride ourselves on keeping our inventory up-to-date with the latest design trends to meet the preferences of our local customers. Our aim is to provide Sand City residents with the contemporary looks they desire for their modern homes, while also offering timeless classics that never go out of style. We stock a wide range of top-tier laminate brands, including Torlys, QuickStep, Fuzion, Unifloor, Richmond, Goodfellow, Divine, Centura, Cascade, and more.

Our local designers are industry experts who stay current with the latest trends, carefully curating our flooring products and assisting our customers in selection. This ensures that we always have precisely what you need when it's time to invest in a new laminate floor for your Lethbridge home!
What is Laminate Flooring?
Laminate flooring serves as a sought-after alternative to hardwood or tile, offering a luxurious look while prioritizing durability through its four distinct layers:
The base layer acts as a moisture shield, providing essential protection.
A robust core layer is designed to endure even the most substantial foot traffic.
The decorative layer offers a wide array of patterns, skillfully replicating the appearance of wood or stone.
The top wear layer is fortified with melanin resin and aluminum oxide, effectively safeguarding your flooring against stains and spills.
Types of Laminate Flooring Available
Whether you already have a clear preference for a particular type of laminate or could use some assistance in defining your style, our team is here to guide you. Simply pay us a visit and share your home's current aesthetic and your vision for its look, and our experts will provide you with valuable insights. Explore the diverse range of laminate flooring options we have available:
Wood-Look Laminate Flooring: This laminate is meticulously designed to replicate the authentic appearance of hardwood, offering a cost-effective and resilient alternative to real wood. Perfect for areas like kitchens and bathrooms, laminate wood is resistant to water and can be installed in any room of your home.
Tile-Look Laminate Flooring: If you desire the elegance of natural stone, ceramic, or porcelain, but also need a floor that can handle the demands of a busy household, laminate tile flooring is the solution that adds style to your home without breaking the bank.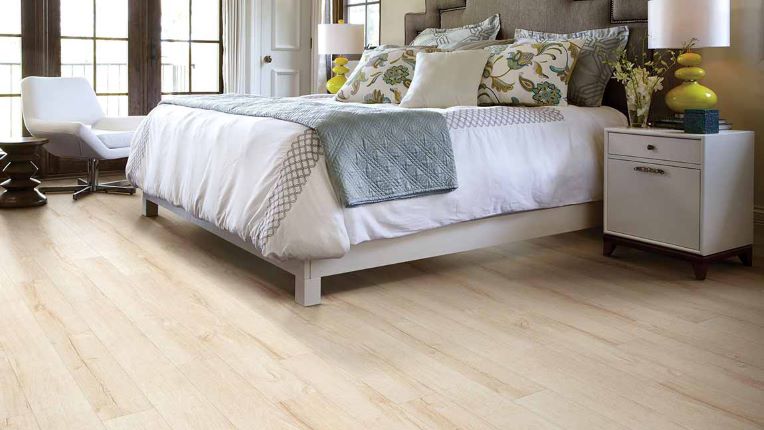 Why Choose Laminate for Your Alberta Property?
Laminate flooring combines style and functionality seamlessly due to its layered construction. Explore the numerous advantages of laminate flooring:
Exceptional Durability: Laminate is highly durable, making it perfect for households with active lifestyles. It boasts waterproof and scratch-resistant properties, ensuring that it can withstand everyday wear and tear.
Easy Maintenance: Laminate is designed for effortless upkeep, providing peace of mind for Sand City homeowners. Accidents and spills can be quickly wiped away or swept up, keeping your floors looking pristine.
Swift Installation: Laminate installation is quick and hassle-free, minimizing disruption to your daily life.
Authentic Style: Laminate offers a realistic feel and appearance of tile, hardwood, or stone flooring, adding a touch of elegance to your space.
Cost-Effective: It's an excellent choice for landlords seeking an affordable way to enhance rental properties or homeowners looking for an upgraded look without breaking the bank.
What's The Difference Between Laminate Flooring and Luxury Vinyl Flooring?
Laminate flooring and luxury vinyl flooring are currently among the most sought-after flooring materials, and for good reason. Both options offer durable planks with the appealing look of wood and tile. However, they each come with their own distinctive advantages:
Laminate flooring is crafted with a core made from wood byproducts, enhancing its durability and stability. While laminate can resist water to some extent, its wood core is not always entirely waterproof.
On the other hand, luxury vinyl flooring features a rigid core that is completely waterproof. This feature provides customers with added confidence, especially in areas where moisture is a concern.
Professional Laminate Flooring Installations in AB
Investing in new flooring is a significant decision, and at FloorRight Interiors, we are dedicated to delivering high-quality products coupled with precise installation services. To ensure you receive the best return on your investment, rely on our team of skilled laminate flooring installation contractors for assistance. When laminate floors are installed correctly, they become resistant to moisture, stains, and heavy foot traffic, guaranteeing years of durability.
Let us provide you with quick and efficient installation services, assuring you that your money is well spent. With our Adore Your Floor Guarantee, you have the peace of mind that if you're dissatisfied within 30 days of installation, we will replace your floors at no extra cost to you. Are you ready to get started on your project?
Contact us today to browse our laminate flooring selections! We proudly serve Lethbridge, AB, and the surrounding communities.