Selecting the Right Hardwood For Your Lifestyle
Hardwood Flooring in Lethbridge, AB
Finding the perfect flooring for your home is a top priority --but finding one that is built to endure your active lifestyle and is stunningly gorgeous can be tricky. Lucky for you, FloorRight Interiors in Lethbridge, AB, has the best selection of durable hardwood floors for your home.
As a local flooring store that has been serving southern Alberta for more than four decades, we have come to understand what fits best in area homes. As part of Flooring Canada, we have access to exclusive hardwood brands and manufacturers such as Aquadura, Floorcraft, and Downs. Local businesses have also benefitted from the look and value of new flooring. Visit our showroom today to start planning for your next remodeling project.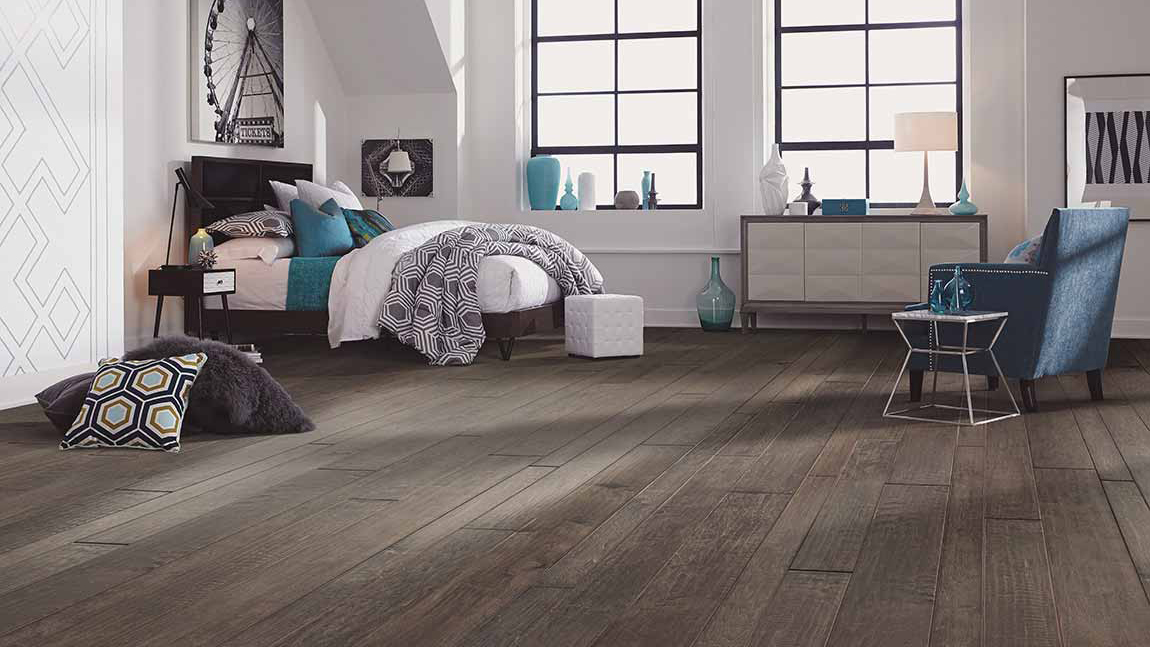 Why Hardwood Floors?
Hardwood flooring is a smart choice for any homeowner looking to increase their home's value or add timeless appeal. With our extensive collection of hardwood flooring designs, you're bound to find the right design and durability to match your lifestyle. Whether you're looking for a hand-scraped hardwood or a top-of-the-line engineered floor, we have the best selection for you.
Since all hardwood species vary, each resulting hardwood floor can expand and contract at different rates, so be sure to consult with our experts to ensure that the hardwood floor you choose is flexible enough for your climate, otherwise, your baseboards can suffer.
Solid vs. Engineered Hardwood
One of the advantages of installing flooring today is the limitless possibilities of hardwood floors. Now you have the choice between solid hardwood and engineered hardwood. Engineered hardwood is composed of cross-cut wood layers, designed with a top layer of hardwood veneer, whereas solid hardwood is solid wood all the way through. Typically, solid hardwood is composed of about ¾ inches of wood and is less expensive and easier to repair than engineered hardwood. However, engineered hardwood has benefits as it's stronger than solid hardwood and can be installed below grade, even in basements.
Hardwood Flooring Maintenance
There are several advantages to installing hardwood floors in your home, from fewer dust allergins to simple care and maintenance. Routine cleaning involves frequent sweeps, dust mopping, and vacuuming to remove dirt and grit and keep your hardwood floors looking brand new for years to come. When spills happen on your new floors, it's recommended that you immediately wipe them up with a cloth so that nothing stains or damages your hardwood.
If scratches occur on the surface of your hardwood, consult your hardwood floor warranty to find the best possible cleaning processes to smooth them over.
Hardwood Flooring Installation
With our Five Star Select system here at FloorRight Interiors, you can rest assured knowing that your hardwood installation will be handled efficiently by our flooring experts. For us, your home design aspirations are a top priority, and our skilled installation contractors are prepared to carry the project past the finish line with thorough craftsmanship that stands the test of time. Our flooring specialists have access to the right tools and resources to perform a quick and straightforward installation so that you can begin enjoying your beautiful new floors immediately.

Contact us today to consult our design experts for advice on which hardwood flooring is best for you. We proudly serve customers in Lethbridge, Claresholm, Cardston, Raymond, and Magrath, Alberta, and surrounding communities.