Vinyl Flooring Made Just for You
Vinyl Flooring in Lethbridge, AB
Ready for brand new durable floors that also have a stunning appearance? Or are you looking for a wood-look interior without the hassle of hardwood pricing and upkeep? Shop our large-scale collection of vinyl flooring options made just for you at FloorRight Interiors in Lethbridge, Alberta.
Luxury vinyl plank and tile are the perfect alternatives to hardwood and ceramic tile when you want to achieve an elegant look in your home. We have a plethora of wood-look and stone-look vinyl flooring designs that are sure to match your taste.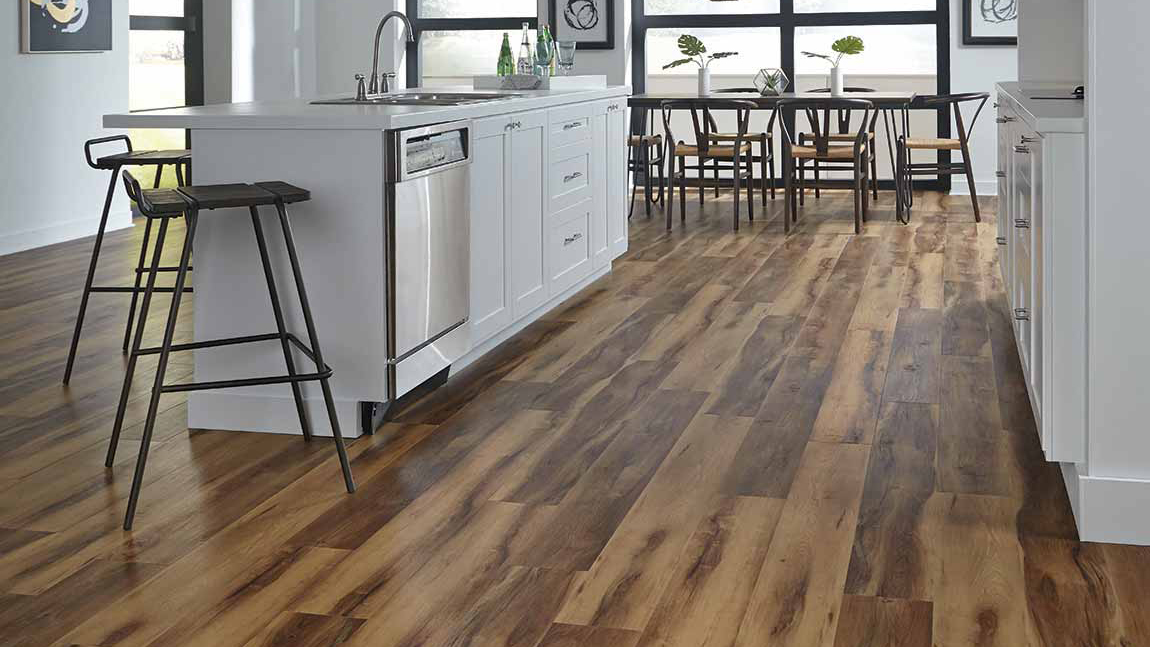 Types of Vinyl Flooring
Vinyl floors have come a long way since your grandma's traditional sheet vinyl. With modern technology, vinyl flooring is now making a comeback as a waterproof, durable alternative to hardwood flooring. Today, vinyl floors come in various styles, from planks to tiles, and follow a simple installation process that makes them perfect for any busy homeowner. Although both luxury vinyl flooring and traditional vinyl flooring are composed of the same four layers, luxury vinyl floors are thicker, making them more effective against daily wear and tear.
We carry exclusive luxury vinyl flooring brands from industry-leading manufacturers such as Downs H20, Galvanite, and Spotlight Values.
Luxury Vinyl Tile
Luxury vinyl tile adds a touch of charm and elegance to any space. When it comes to new floors, LVT offers a multitude of options for both residential and commercial property owners. Replicate the magnificent look of ceramic or porcelain with this comfy alternative, which is ideal for bathrooms, kitchens, and other high-moisture areas. Our LVT is produced with an uncanny tile appearance, with depth and textures to convince even the most observant visitors. Easier to install than true ceramic tile, grouting is not required for LVT. While many people choose this choice for a porcelain, ceramic, or marble look, wood-look LVT is also available.
Luxury Vinyl Plank
As one of our most popular products, luxury vinyl plank is the ideal compromise for families that enjoy a hardwood floor but want desire more comfort and longevity. LVP has a softer feeling underfoot and can tolerate spills, heat, and foot traffic that can cause natural wood floors to warp. The top layer of LVP is formed utilizing advanced photographic technology, resulting in a stunning decorative layer that draws attention with authentic-looking whirls and grain patterns. Our LVP inventory contains everything from mahogany's rich crimson hues to the delicate, soft tones of birch and oak.
Vinyl Floor Maintenance
All of our vinyl floors at Floor Right Interiors are 100% waterproof, meaning you can install them in any room in the home, including moisture-prone areas like your basement and kitchen. The clear wear layer in vinyl flooring also protects the floor's surface from foot traffic, marks, gouges, and spills. Cleaning your new floor's surface is as simple as a damp mop and occasional sweeping. No special polishes, cleaners, or products are needed!
Stylish & Sturdy Waterproof Vinyl Floors
It is time for you to get the floor you want for your space without having to worry about the potential of water damage. At our flooring showroom, we sell and install waterproof vinyl flooring that is perfect for kitchens, bathrooms, basements, cafeterias, mudrooms, and just about any other room with the potential of getting wet.
Worried that your water-resistant flooring is going to trade durability for attractiveness? Think again. Your new floor will not be dull-looking. Instead, our waterproof flooring products come in many different colors and designs so you will find it easy to pick out something that wonderfully fits the aesthetic you want for your space. In fact, many of our flooring products are created to look like ceramic, natural stone, or wood flooring. We carry stylish and sturdy flooring products from such trusted name-brands as:
Manufactured using only high-grade materials, our floors are built to hold up even in the wettest of environments. Visit our flooring showroom for assistance if you need waterproof flooring that is as appealing as it is durable. One of our friendly and experienced associates will happily help you find and pick out the product that best suits your needs and style.
Vinyl Floor Installation
We'll be sure to find the right professional installer for your vinyl floor installation, with the aid of our flooring specialists. Our installers are familiar with our product lines and know the best installation methods to ensure that your vinyl floors are covered for years down the road. You get the best of both worlds with vinyl plank flooring because you can build the wood-look floor of your dreams without the concern of gapping or cupping with changes in moisture. Vinyl flooring can be installed in any room of the house, including basements and laundry rooms, due to its waterproof capabilities. To get your fabulous new luxury vinyl floors installed in no time, contact us at FloorRight Interiors in Lethbridge, AB.


Contact our flooring store today to schedule an on-site consultation about your vinyl floor project. Our expansive showroom proudly serves Lethbridge, Clareshold, and Cardston, Alberta.