Excellence in Vinyl Flooring in Lethbridge, AB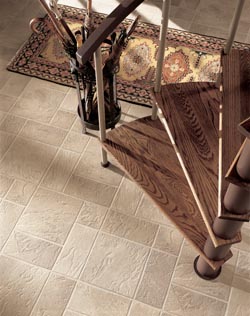 When you're ready to tackle that flooring project you've been putting off, you can rely on our company to provide you with beautiful vinyl flooring in Lethbridge, AB. This product is an alternative to tile and hardwood and also can mimic those designs, making it a favorite with many people. You'll enjoy that comfortable, soft feeling as you cross the floor in your sock feet. It's one of the more popular options for kitchen and bathroom applications because it's moisture and noise resistant.
It's an excellent option for heavy traffic areas, as it's hard-wearing, stain-resistant, and static resistant. Vinyl can last for many years, and will require only a minimum amount of maintenance. At FloorRight Interiors, Ltd., our team is experienced with vinyl tile flooring so you can have peace of mind knowing the products we provide will satisfy your needs.


Offering a Variety of Colours and Designs
Although vinyl is available in a wide selection of colours and grains, the latest trend in vinyl flooring is designs that mimic natural floors like wood and stone. We also offer a faux wood flooring which has a texture that closely resembles the natural timber, and comes in tiles that replicate floorboards that give it a realistic look. With proper installation, it may be difficult to tell the difference between vinyl and natural products.
Given the variety of colour and designs available with the vinyl sheet flooring, it's possible to match your décor to a "T." You'll be ecstatic with the fact that you don't have to change your décor to match your new flooring, making this a cost-effective way to upgrade your home to a style you want.


Choosing Vinyl for Your Business
As a business owner, you have to plan for heavy foot traffic on a daily basis. It's not just about volume of customers. The more successful you are at keeping customers in your space and continuing to make purchases, the more durable your floor needs to be. The clear wear layer protects the surface of the floor from foot traffic, marks, gouges, and spills.
Our vinyl flooring installation team is prompt, courteous and efficient so that you can be assured; your needs are taken care of. We suggest that the primary reason for choosing this type of flooring would be for ease of cleaning. Any materials you use for your commercial space should be easy to clean. This results in lower janitorial costs. It also improves safety factors and will help you reduce liability because of its ease to quickly clean. Whatever your tastes are for style and colour, we are here to help.



Contact our flooring company today to schedule an on-site consultation about your vinyl floor project. We proudly serve Lethbridge, AB, and the surrounding area.