Tile Flooring in Lethbridge, AB
Whether you're looking to upgrade your bathroom with sleek cement-look porcelain or you're in the market for a rustic reclaimed wood-look tile in the bedroom, our flooring experts can seamlessly guide you through our tile floor selection finished with professional tile installation. At FloorRight Interiors, your design needs are our top priority, and we will take the time to explain the features and benefits of each tile style. Visit our Lethbridge, AB, showroom today to view our tile flooring!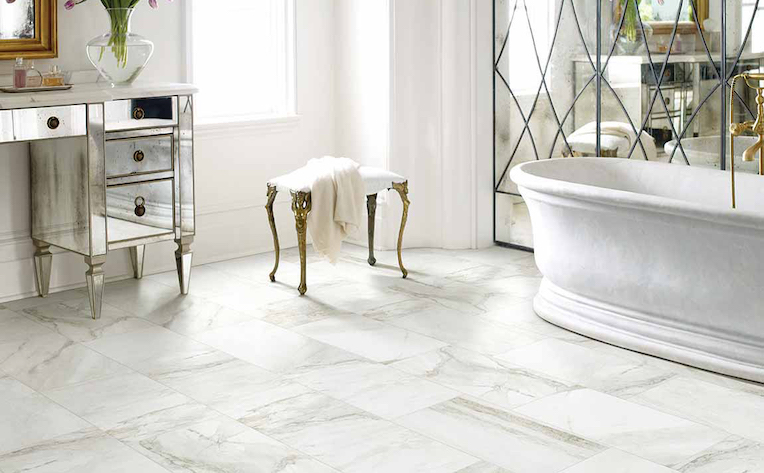 Types of Tile Explained
When it comes to shopping for tile, our local flooring specialists can help you navigate our vast collection of different tile patterns, colours, textures, shapes, materials, and sizes, no matter what your home improvement needs are. For households with small kids underfoot, you might opt for a clean matte-finished tile that won't show daily scuffs or scratches. Looking to elevate your space? Maybe lean towards a sleek polished marble. Perhaps you want an earthy aesthetic. If so, consider a natural stone look such as slate tile floors. We offer everything from ceramic, wood-look, stone, and porcelain tiles to elevate any home or office design.
Ceramic Tile Flooring
Ceramic tiles are made from clay that has been permanently hardened by heat. This affordable flooring option is completely customizable. Choose the size, colour, finish, and installation patterns for a unique ceramic tile floor. Ceramic tiles offer waterproof durability in a variety of styles you'll love.
Porcelain Tile Flooring
Porcelain tiles use similar materials as ceramic, but are fired at higher temperatures for an extremely dense finish. This offers a less porous surface that repels water. Porcelain looks beautiful in bathrooms and kitchens alike with added durability. Find popular styles like marble look porcelain and cement look porcelain to give your home the design edge it's craving.
Stone Tile Flooring
If you're looking for a completely natural look, browse our selection of floor stone tiles. Raw materials such as travertine, marble, granite, and slate are used to create stone tile. Given its incredible strength, stone is a highly sought-after material and can add a luxurious touch to any environment.
Wood-look Tile Flooring
For those seeking the natural beauty of hardwood with increased durability, wood-look tile is the perfect choice. Made from environmentally friendly materials such as sand and clay, wood-look tile can withstand scuffing, scratches, heat, water, and fades. While solid hardwood is subject to damage from excessive moisture and spills, tile floors will never warp or expand when made wet. Get that fancy herringbone pattern in your kitchen without worry!
When you choose to invest in tile for your wood-look flooring, the design possibilities are endless! Whether you prefer the lighter shades of oak or the more rich, red hues of mahogany, our wood-like tile can replicate any species of wood with an authentic appearance. Get the charm of solid wood with added resiliency and endurance when you choose from our wood-look tile inventory.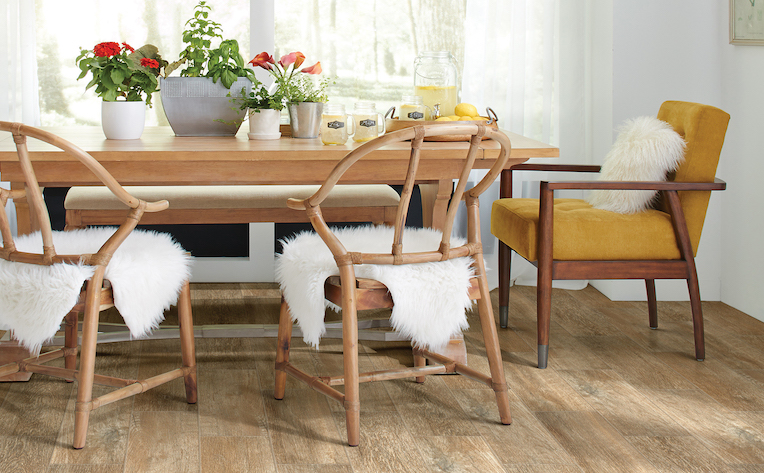 Other Types of Tile Applications
Besides floor tiles, FloorRight Interiors carries a variety of tile projects to finish virtually any home improvement project you desire. Choose from our available options to mix and match for a unique design. From subway tile backsplashes to stone tile showers, we have the options you need to make your design dreams a reality. Find the following types of tile at our Alberta showroom:
Backsplash Tile
Fireplace Tiles
Mosaic Tile
Outdoor Tile
Shower Tile
Wall Tile
The Many Advantages of Tile Flooring
Here at FloorRight Interiors, you get the best of both worlds as we are a local flooring store with the buying power of Flooring Canada, giving you the best prices and access to the top tile brands, including Centura, Ames Tile & Stone, Tierra Sol, Saltillo, Olympia, Euro, Dal-Tile, Julian, Ceratec, Casa Roma, and more! Discovering that perfect blend of natural beauty and sustainable resilience in your flooring is right around the corner when you shop at FloorRight Interiors in Lethbridge, Alberta. Our showroom houses the best tile brands in the industry, offering a broad expansion of tile products from glazed ceramic to modern wood-look tiles. Every tile style has its own set of features and benefits, which include the following:
Durable, scratch and stain-resistant tile floors have long been a popular choice for homeowners looking to install beautiful flooring in their kitchens, bathrooms, and mudrooms.
We carry tile brands that make tile maintenance simple, only requiring regular vacuums and sweeps.
Tile is waterproof and moisture resistant, making it ideal for areas that are prone to spills and high moisture content.
Versatile in design, get the look of natural stone and genuine hardwood without the risk of water damage.
Tile is an eco-friendly flooring material that resists mold and mildew for a cleaner home environment.
Enjoy tile's compatibility with heated flooring systems like Schluter Ditra-Heat.
Find various price points to meet your budget.
Expert Tile Installation with Our Team
Once you've invested in your brand-new tile floors, trust our experts to perform an efficient installation. Installing tiles can be difficult given the risk factors at hand, such as loose tiles, irregular grout lines, and defective sealing. Luckily, our flooring professionals are familiar with all of our products and have the knowledge and tools necessary to install your tile floors with easy craftsmanship.
These floors can be placed in almost every room of the house, including hard-to-reach areas like bathrooms and basements because our tile collection is entirely water-resistant. Backed by our Adore Your Floor Guarantee, our team of installers promises to complete your flooring installation to your satisfaction. In the unlikely event that an error in workmanship should occur, we will replace your floors for free with a product of a similar price.
Contact us today to find the gorgeous tile floor of your dreams. We proudly offer tile products and installations to the communities of Lethbridge, Claresholm, Cardston, Alberta, and the surrounding areas.